Brian and Lynn Tonkin's seven week vacation tour commencing 13th March 2010
PAGE 1 | PAGE 2 | PAGE 3 | PAGE 4 | PAGE 5 | PAGE 6 | PAGE 7 | PAGE 8 | PAGE 9 | PAGE 10
| | | | | |
| --- | --- | --- | --- | --- |
| Florida | Caribbean | Utah | Tokyo | Singapore |
Back to Iles des Saintes
Our skipper is always checking weather maps, forecasts and wind directions etc in order maximise the speed of our inter-island passages, avoid bad weather and enjoy smooth sailing. We now need to make our way uphill (north) to Antigua where we'll leave "Cerulean" in five days time. Alan suggests we go via Iles des Saintes and the western side of Guadeloupe. Lynn and I nod our heads and give it the green light. What the hell would we know anyhow.
A few hours leisurely sailing brings us to a different isle in Les Saintes group to the one we visited on our downwind passage. We anchor off a very pretty little beach for an afternoon of swimming, snorkelling, reading and snoozing. All in all we enjoyed a most delightful day followed by a lovely dinner courtesy of chef Liz.
| | |
| --- | --- |
| A pretty anchorage for our second visit to Les Saintes | Sun sets following a rainy afternoon in Pointe Noir bay |
Guadeloupe Island
Next day we got away early and sailed up the long western side of Guadeloupe, a fairly large French administered island. Just before reaching the northern tip we anchored in a tiny bay off the tiny village of Pointe Noir. We went ashore to explore but unfortunately the rain started to pelt down and as none of the shops or restaurants had effective awnings we hurried into a church. This turned out to be fortuitous as a group of native women were gathered for choir practice so we were serenaded with hymns in the French language whilst we waited for the rain to abate.

Village church in Pointe Noir Guadeloupe
Village of Pointe Noir

on the French Caribbean

island of Guadeloupe.

A pleasant interlude on

a very rainy afternoon


Serenaded by the local church choir
Next morning we awake to a glorious sunny day and we await the promised delivery of our breakfast croissants and baguettes. The baker from the local boulangerie had called by "Cerulean" yesterday to take our order and told us to expect a 7.30am delivery. We were beginning to think the deal had fallen through but the goodies finally arrived at 8.15am.... just another example of "island time" here in the Caribbean.
| | |
| --- | --- |
| Hurrah, here comes the baker with our brekkie croissants | Fine morning dawns in Guadeloupe after yesterday's rain |

Antigua and end of cruise
As soon as we'd disposed of breakfast the anchor was raised and we set off for Antigua on a brilliantly smooth blue sea with 10 to 12 knots of wind to help us along. Around four hours later we sailed into English Harbour which was the hidey hole and stronghold of Lord Nelson's Caribbean fleet. We find lots of cruising boats in the harbour but Alan finds a nice place and after jumping overboard for a cool-off before sitting down under the canvas awning for another tropical luncheon in Cerulean's huge rear cockpit. You may be surprised to learn that even though there are very good dining facilities in the wheelhouse saloon, we have in fact eaten almost all meals in the cockpit during the cruise. It's simply the best location given the balmy weather we have enjoyed here in the Caribbean.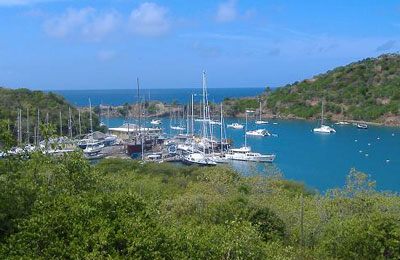 English Harbour in Antigua - Lord Nelson's stronghold

Rowing boats end a 600 mile race in English Harbour
All good things must come to an end and after a couple of days in Antigua we offer our thanks to Alan and Liz weeks who have looked after us superbly for the last 12 days. Alan ferries us ashore for the last time and then it's off to Antigua's international airport where confusion reigns supreme. It's only a tiny airport really but apparently some Nigerian terrorist had been caught trying to board a flight with some explosives a few days before. Now every passenger has to pass through myriad checkpoints before boarding an aircraft.
| | |
| --- | --- |
| This South African yacht was painted in a zebra pattern!! | Skipper Alan coaxes Lynn to try steering Cerulean |
Miami again
Our second arrival in Miami airport turns out to be at least as bad as our last one several weeks ago. It's super busy, super slow and really unpleasant all round. We finally got our bags, finally managed to board a Hertz shuttle bus. The Hertz depot was a disaster with at least 60 people jostling to get their hands on the car they'd booked or hadn't booked as the case may be. After about an hour I finally got to the counter to find that the car I'd booked wasn't available. After a lot of too-ing and fro-ing about substite cars I eventually accepted a Chev Impala at the same price as my booked Toyota Avalon. It wasn't until the next day I figured out that this was really a downgrade without price adjustment. Scumbags!!
Key West - Florida
After a much needed sleep in a Miami hotel we jumped into our car and headed for Key West at the southern tip of a string of islands in the toe of Florida.

Bongo guy outside a Key West cafe
Key West

Bongo Drums

and bathplugs


Underside of our basin's plug - Yuk!!
The journey from Miami to Key West is about 135 kilometres from memory but maybe more. It's only one lane in each direction with little chance of passing. You go from one island to the next down the island chain crossing many bridges both small and large. One of the inter-island is about 12 kms long whereas some are only 200 or 400 metres long.
We were very disappointed by this journey because it was totally flat the whole way with all low vegetation (predominately mangroves). Our frequent glimpses of sea were mainly sand flats and mud flats and only occasionally covered with a little water. Some of it was pretty smelly also. Our disappointment can be mainly attributed to the fact that it was low tide because on our return next day there was much more water and no smells. It made the return journey more appealing.
In retrospect we don't think the journey down to Key West and back on the same road was really worthwhile, especially as the town of Key West itself is very expensive and often neck deep in cruise boat day trippers.
Our unavoidably expensive hotel room in the Crowne Plaza la Concha was really small and was a rip off compared to every other hotel we stayed at in the USA where we usually got double the size for half the price. And when the water in our bathroom sink was so slow to empty, Lynn lifted the American style levered plug completely out of it's orifice to reveal the state of affairs you see in the photo above. Lynn took the plug down to the reception counter to show them. he clerk's only response was to roll his eyes but he did at least waive our $20 parking fee when we checked out next morning for our journey to Naples which is located well up into Florida and about 230 kms north of Key West