Scotland the Brave - 16th June 2011
Sadly it is raining quite heavily as we point the Volvo towards Scotland. Although today's drive is only about 190 kilometres, the rain slows us down quite a lot and frankly nothing looks good in the rain. It's all a bit depressing really. Surprisingly the weather breaks just before we reach the Scottish border and once more we are amazed at how fast the weather can deteriorate or get better in such a very short period of time here in Britain. As we cross into Scotland we find that the roads are wider and that frequently there are grass verges beside the road instead of treacherous drains, rock walls or hedges. This is a welcome development.
The landscape in Scotland also seems somewhat more open and after the last 10 days of charcoal grey stone buildings it's also a relief to be in an environment where most buildings are painted white or cream.
Unfortunately the sunshine doesn't last long and it's raining again by the time we reach Ayr, a small city of about 50,000 people although it seems rather larger than that. We have two nights booked in the "Robbie Burns Suite" in an apparently upmarket bed and breakfast place on the edge of town. This establishment proves to be indeed well found although our room is physically small compared to most places we have stayed during our time in Europe thus far.
Our host couple are delightful and extremely hospitable without being over the top.... pillows excluded. Have you noticed a stupid and increasingly widespread practice nowadays for accommodation properties to "impress" guests by how many pillows are on the bed and how many complimentary jars, tubes and little cardboard boxes of cheap creams, shampoos and conditioners they can squeeze into their bathrooms? Well, we're not impressed.... just give us back our bathroom bench space and also save us the trouble of finding a place to stash all those silly cushions and pillows. Hmmm, I wonder if increasing age is associated with increased irritability?
| | |
| --- | --- |
| Nine pillows on one bed.... is that a world record? | But wait.... there's MORE !! |
We only stayed two nights in Ayre and it rained all the time. In typical Tonkin fashion we tried to explore along the waterfront but only modest size sections were accessible to the public. In so many places privately owned buildings prevented access to the shore. We eventually located the industrial harbour and the fishing trawlers cove just beyond. It was far from appealing on this dark grey rainy day but we did spot a nice restaurant with an appealing nautical ambience. After a tasty bowl of seafood chowder, a big bowl of freshly steamed mussels and a glass or two or wine our clothes dried out and our spirits greatly revived.

Next day we set off for the town of Oban and because we'll be taking minor roads close to the western coast were looking at a trip in excess of 300 kms which is going to mean a full days driving in this part of the world.

Enroute we're obliged to pass through a portion of Glasgow but unfortunately get briefly lost because our Sat Nav system is unaware of the extensive roadwork activity currently preventing us from following the spoken directions. Still, after a little floundering around some Glasgow back streets, the system surmises that we'll need an alternative route through town and before long we're headed out of the city in the right direction. I never cease to be impressed by this technology. Buying my TomTom navigator about six years ago has proven to be one of my best purchase decisions ever. It's simply incredible!

As we leave Glasgow the countryside becomes extremely green and very beautiful. Sadly it's raining most of the time yet again and that precludes any decent photography.

| | |
| --- | --- |
| Some kilted young Scots in the western village of Lochgilphead | Oban harbour has a very atmospheric hillside backdrop |
In due course we reach Oban and check in to our pre-booked apartment. It's on the third floor of a building on the esplanade overlooking the harbour in front and green grassy mountains on the northern shore. It's a good position with great views. and although the furnishings are rather ordinary it's good to be in a fully self contained apartment again. However we were surprised to discover that the only way to have lighting, cooking, hot water and internal heating was to shovel one pound coins into an old fashioned meter just inside the front door!! Still one soon adapts to such surprises.
Our first day and a half in Oban was grey and showery and we can't help thinking that our whole Scottish tour is proving to be a complete write-off thanks to the weather. Thankfully the next day dawns clear and sunny and the views from our widows look fabulous. We can't wait to get outside and despite the chill we go for a long pre-breakfast harbourside walk. Suddenly I'm snapping photos like there's no tomorrow. What a great day.... what a great town.... what a great place for a holiday !!! Funny how weather can change one's whole perspective.

Unfortunately only time for a quick photo at Inveraray Castle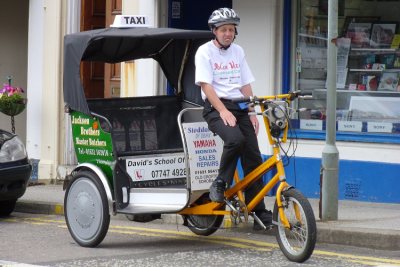 A novel way to get around Oban by pedi cab taxi
| | |
| --- | --- |
| These large ferries passed our apartment every hour or so | A ruined fortress on the ouskirts of Oban |
We took the opportunity to take a guided tour of the Oban whisky distillery. This proved very interesting but the visit to the tasting room left us a little dazed after tasting half a dozen small nips of various blends. We couldn't really recommend it as a pre-lunch warm-up activity. Of course it didn't help that Lynn merely sniffed most of our samples which left yours truly having two small nips of almost every blend. After all, I wouldn't want to insult our host and of course I also abhor waste !!
Following the distillery tour we staggered on to a large harbourside seafood restaurant for a late lunch. We both had a delicious seafood platter. Lynn had a couple of glasses of wine and I had..... water! As my eyes began to clear I noticed that the tall ship "Lord Nelson" was moored right beside the restaurant. A group of trainees were being put through their paces trying to fold and stow huge canvas sails. Their superior must have seen too many pirate movies because he was continually shouting at the junior crew in a very ugly and disrespectful manner. An ugly and totally unnecessary performance which I rather suspect was for the benefit of onlookers.
| | |
| --- | --- |
| We definitely AINT going to sea in this old scow | We bought tubs of shelled hot scampi at this trawler anchorage |
It's now time to farewell Oban and head on north again to a town called Plockton. Because we'll be taking a more scenic but obscure route we're looking at a trip of about 270 km. We plan to go via the Isle of Skye. Once again we are travelling through intermittent showers and rain so it's hard to appreciate the natural beauty of craggy hills, green valleys, ponds and small lakes.
Continuing further on we find ourselves in a very sparsely populated region. It's nearly 2.00pm, it's raining continuously and I cannot find any restaurants or other places to buy food. More importantly I can't find a toilet and things are getting pretty desperate! Luckily fervent prayers are finally answered and we find a tiny roadside inn which provides us with both necessities. What a relief.
After a warming bowl of soup and a toasted sandwich we drive further westwards to catch a ferry over to the Isle of Skye. Upon arrival at the departure point we discover that the next sailing is fully sold out but we are offered the option of buying our ticket anyhow and lining up in the standby lane in case there are any pre-booked "no shows" for the following sailing. We end up becoming Car Number 3 in an eventual standby queue of about seven vehicles. The ferry eventually arrives and after loading heaps of cars, trucks, buses and motor homes we can see what seems to be a tiny spare space at the stern of the ferry. We are left holding our breath for 10 minutes during which time nothing happens. Then a man in yellow wet weather gear becomes vaguely visable through our severely fogged window. He holds up four fingers and beckons we lucky ones to drive down the ramp onto the ferry. Thank goodness we won't have to wait in the rain until who knows when !!
Our drive across the Isle of Skye was uneventful and in due course we can take a relatively new bridge back over to the Mainland at Kyle of Lochalsh. From there it's only a short drive on to Plockton
Our accommodation outside Plockton proves very hard to find. It's supposed to be a two bedroom self contained cottage on a remote unmarked road surrounded by forest. The directions we were given seem wholly misleading and we can't find the mentioned sign. For once our Sat Nav system also seems at a loss. Eventually trial and error finally brings us to our destination and the cottage owner informs us.... "oh yes we had a wee accident with the sign. One of our cows sat on it and we haven't had time to replace it yet".
Nearby Plockton turns out to be a very cute village on a handsome loch. The surrounding countryside is very pretty too and often breathtakingly majestic. Thankfully the next four days are mostly free of rain so we take the opportunity to do some serious exploring. Each day we head off into different remote locations encompassing drives of 100 to150 km or so and we experience some wonderful valleys, mountains, streams, lakes and lochs. We took hundreds of photos and a handful of these are shown below. Our only disappointment was not making it to the highly recommended town of Ullapool. We set out for that destination one day but we ended up running out of puff and consequently shortening our planned circular day tour. After 8 weeks touring our energy levels are seriously depleted. On these daily driving excursions I'm often obliged to take a short afternoon snooze parked beside the road. This is totally new for me as I have never in the past indulged in an afternoon nap more than one or twice per year. Just another sign I suppose

.
| | |
| --- | --- |
| Cemetery sign warns us to avoid falling into underground crypt !! | A peaceful farm meadow in the village of Mellon Charles |
| | |
| --- | --- |
| A serpentine road took us over a mount and down into Applecross | We looked and exclaimed "this surely is PURE Scotland !" |
| | |
| --- | --- |
| Some great views we enjoyed overlooking Gruinard Bay | Ancient burial stones at Crarae Gardens on Argyll Peninsula |
| | |
| --- | --- |
| A secret booking at Gleneagles Golf Club for Lynn's birthday | We treated ourselves to one night of luxury at Gleneagles |
Today is 25th June and Lynn's birthday. She thinks we are going to find an off the cuff hotel when we overnight in Perth on our way to Edinburgh. But I have been a little sneaky. Months ago I secretly booked us into the Gleneagles Hotel on the famous Gleneagles Golf Club. To cap off this birthday indulgence I also booked a table in "Andrew Fairlie's" two Michelin Star restaurant which is housed within the Gleneagles Hotel. Well it all proves to be extremely posh with all the male staff immaculately garbed in kilts leading us through incredibly rich foyers and halls to a wonderful large suite where a huge basket of fruit and a complimentary birthday gift awaits Lynn. All of this helps to offset the disappointing fact that it is (you guessed it) softly but continuously raining.
A degustation dinner and a very late breakfast preceded our next day departure for Edinburgh. Upon arrival we have to dump our car at the Hertz depot in Edinburgh Airport. However this proves to be the busiest day of the annual Edinburgh Show which is located right next door to the airport. The roads are all grid locked and in floundering around trying for alternative routes we end up in an apparently restricted part of the airport complex. This is where we are unceremoniously bailed up by two burly coppers in a police car. After inspecting our documents they decide we are harmless and offer to escort us to the Hertz depot. So hugging their rear bumper we play follow the leader until we reach our car drop-off. Although we didn't have a siren escort there's no doubt that cars readily give way for cop's cars. However it was very important that we stayed closely on their tail. I kept reminding myself to concentrate, concentrate. Imagine accidentally ramming into the rear of a police car !!
| | |
| --- | --- |
| Edinburgh Castle in the centre of town and close to our hotel | Parts of castle take on a whole new ambience at night |
We only have two nights in Edinburgh and most of our free day is spent re-organising a massive amount of luggage before flying off to New York. Lynn decided to send much of our surplus home by Royal Mail but this involved quite a bit of rigmarole, was time consuming and incurred significant expense. Still it's probably a wise move and will make the next two weeks somewhat easier.