Site Menu - Click any other page you'd like to view
HOME PAGE

DIARY

HOTEL LIST

VANCOUVER & VICTORIA

INLAND PASSAGE

MOUNTAINS

QUÉBEC

PERCÉ

CABOT TRAIL
THE MARITIMES

MAINE

FRISCO

BUILDINGS

WILD ANIMALS

DOGS

LOBSTERS

VEHICLES

HISTORY

FLORA

OUR HOME

LOBSTERS PHOTO COLLECTION

"At these prices I'm gonna have the 1½ pounder".
Brian and Lynn have one of the lobster specials
at the very busy "Fisherman's Wharf Restaurant"
in North Rustico on Prince Edward Island

During the lobster season you can buy a lobster
burger in many cafés throughout Nova Scotia
for around $8 including salad and fries. Are
Macca's going to ignore this? No way!

Is this for real? Apparently so. At least two dozen
people were lined up every time we passed this ice
cream parlour in Bar Harbour, Maine, USA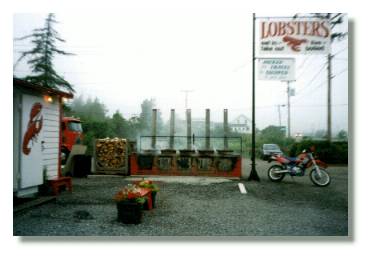 A chilly foggy morning in Bar Harbour, Maine but
this roadside "lobster shack" has five kettles
of lobsters on the boil for early customers.
Fancy a lobster breakfast perhaps???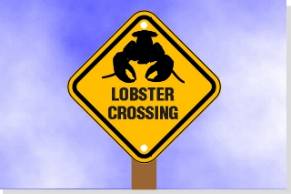 We did actually see a sign like this along
the road but we couldn't stop. Obviously
someone had a great sense of humour!
Brian faked this piece of artwork in lieu.