Site Menu - Click any other page you'd like to view
HOME PAGE

DIARY

HOTEL LIST

VANCOUVER & VICTORIA

INLAND PASSAGE

MOUNTAINS

QUÉBEC

PERCÉ

CABOT TRAIL
THE MARITIMES

MAINE

FRISCO

BUILDINGS

WILD ANIMALS

DOGS

LOBSTERS

VEHICLES

HISTORY

FLORA

OUR HOME

VANCOUVER & VICTORIA PHOTOS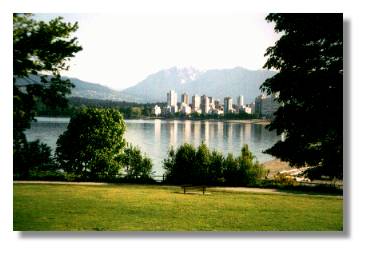 View from our bedroom in the Ogden Point B&B
in Vancouver. We looked down on a park across
the bay to downtown, over to Stanley Park
and the snow capped Grouse Mountain.

Still remember how to ride a bicycle after some
35 years? Lynn puts it to the test on a hired
bike here in Vancouver's Stanley Park.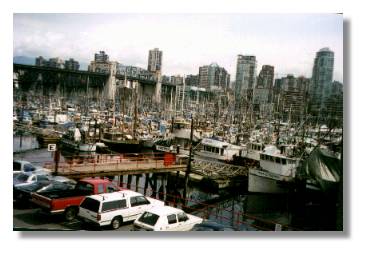 We've never seen such a packed marina. There
must have been at least 500 masts thrusting
up out of this quite small Vancouver creek.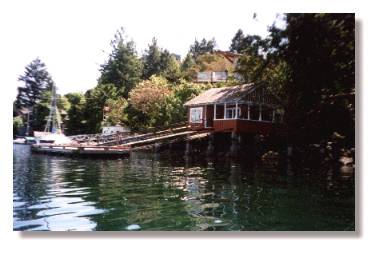 A 90 minute ferry ride from Vancouver over to
Vancouver Island and the city of Victoria where
we had exclusive use of the Boathouse B&B.

We rowed our dinghy across to the float plane
jetty behind the Butchart Gardens. Many tourists
on tight schedules fly in from Vancouver, view
the gardens then fly back to Vancouver again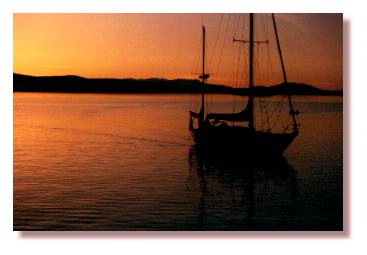 On our last night we were blessed with a great
sunset as we sipped white wine and surveyed
our view from the Boathouse B&B's verandah