Site Menu - Click any other page you'd like to view
HOME PAGE

DIARY

HOTEL LIST

VANCOUVER & VICTORIA

INLAND PASSAGE

MOUNTAINS

QUÉBEC

PERCÉ

CABOT TRAIL
THE MARITIMES

MAINE

FRISCO

BUILDINGS

WILD ANIMALS

DOGS

LOBSTERS

VEHICLES

HISTORY

FLORA

OUR HOME

WILD ANIMALS PHOTOS

Brian carefully "snuck" up on this elk and caught
him nicely with a mouthful of roadside dandelions

This black bear calmly posed for us beside the
road near Lava Springs in British Columbia

A wild mountain goat with newborn kid beside
the road along the Icefields Parkway in Alberta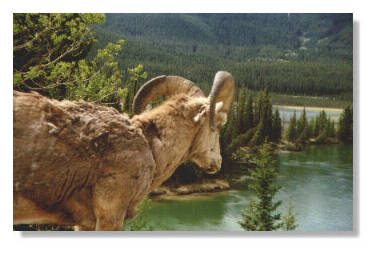 Do what she may, Lynn couldn't get this bighorn
sheep to face our camera. She was shooting from
the passenger window of the Cadillac, on the edge
of a precipice not far from Banff Springs, Alberta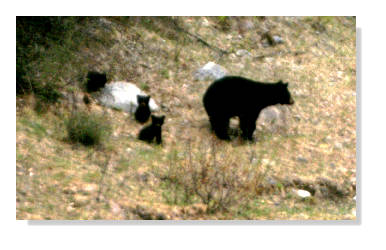 Black bear with three cubs... we were absolutely stoked!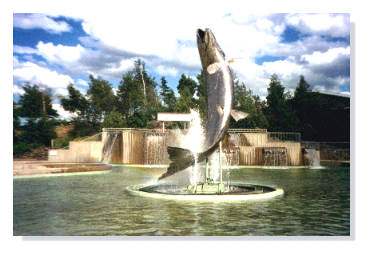 A five metre tall, stainless steel salmon leaping
from a pond in Campbelltown, New Brunswick

And at about this time someone in our car was
heard to exclaim, "shit, roll up the bloody window!"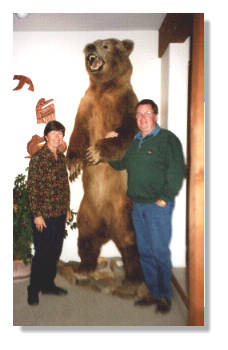 A tame grizzly greeted us at
"On the Cliff B&B" located
in Kaslo, British Columbia

Brian soon cleared the room but this
tolerant bison stayed on to hear him
pound out a few mangled melodies
in this saloon in Fort Steele B.C.